Have you voted in the new 2020 general election poll? If not, please
do so now.
See multiple voting systems in action, and set the groundwork for a more harmonious America.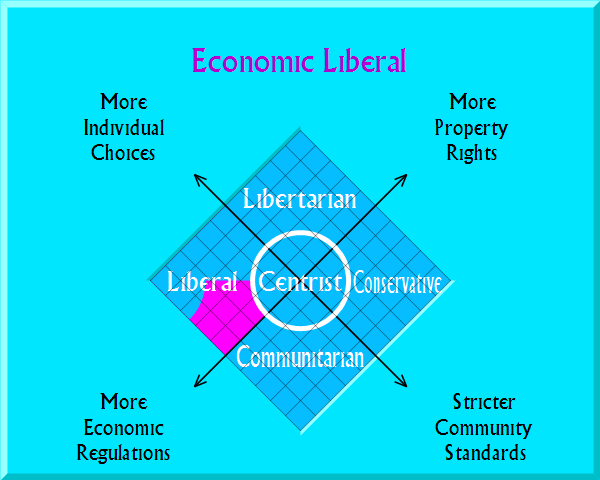 Click here for code to display this image
3.9% scored Economic Liberal out of 120426 total takers for the new Version 7.
3.6% scored Economic Liberal out of 302551 total takers for the old Version 6.
Description
You want government out of your personal life, at least to some degree. But you want more government intervention in the economy. Politically, you appear to be a solid Democrat, or beyond.
Political Campaigns and Parties

Two green parties to choose from:



Utopias and Dystopias
Just what is the optimal type of government? If government should be big, what should it do and who should run it? If government should be small or nonexistent, what should take its place? Should we embrace The Singularity or should we retreat back to Ecotopia? Is democracy optimal, or should we go back to monarchy? Maybe we should just let the mafia run things...
Sometimes the best way to explore these questions is to run a mental simulation through fiction. And so writers have promoted their ideas in utopian fiction and blasted ideas they disliked in dystopian fiction.
Here is an eclectic list of some of my favorites. You will find dystopias with runaway government which makes you long for liberty, and runaway corporations which make you long for more government. There are hippytopias and conservative Christian utopias. There are stealth utopian works disguised as comedies and even a crime novel. And there are few which are ambiguous as to whether they are utopian or dystopian works.
Not included here are the usual suspects. For the most part I have also omitted overly preachy works; I made a very few exceptions because the utopias described were just so different as to make the works interesting on that count. The rest stand on the merits of their interesting plots. Enjoy.
This is the short list. For more, with reviews, see:
Increasing Economic Equality

If you are a Christian as well as a liberal, check out God's Welfare System. This article shows how the poor were supposed to be taken care of during Old Testament times. There are some ideas there that are useful to this day. And you get to have fun with Republican members of the Religious Right when you can point out how the Law of Moses calls for an extensive welfare system while at the same time calling for no money for the police or the military.
The Good Government Reading List
Regardless of your core political values, this list of books on law, economics, politics, and social problems should add useful items to your mental toolset.
Click on an image to go to the Amazon order page. Note that the latest versions of these works may differ in cover from the images, as many of the images are pics of my personal copies.
This is a short list. I have more recommendations on economics, law and political philosophy, and mass domination for those who are interested. (The linked pages include reviews of my recommended readings.)